Two students selected for Department of Energy University Nuclear Leadership Program fellowships
Two students selected for Department of Energy University Nuclear Leadership Program fellowships
May 4, 2023 - by Kim Delker
Two nuclear engineering students from The University of New Mexico are among 32 students from institutions around the country to receive graduate fellowships as part of the U.S. Department of Energy's University Nuclear Leadership Program (UNLP).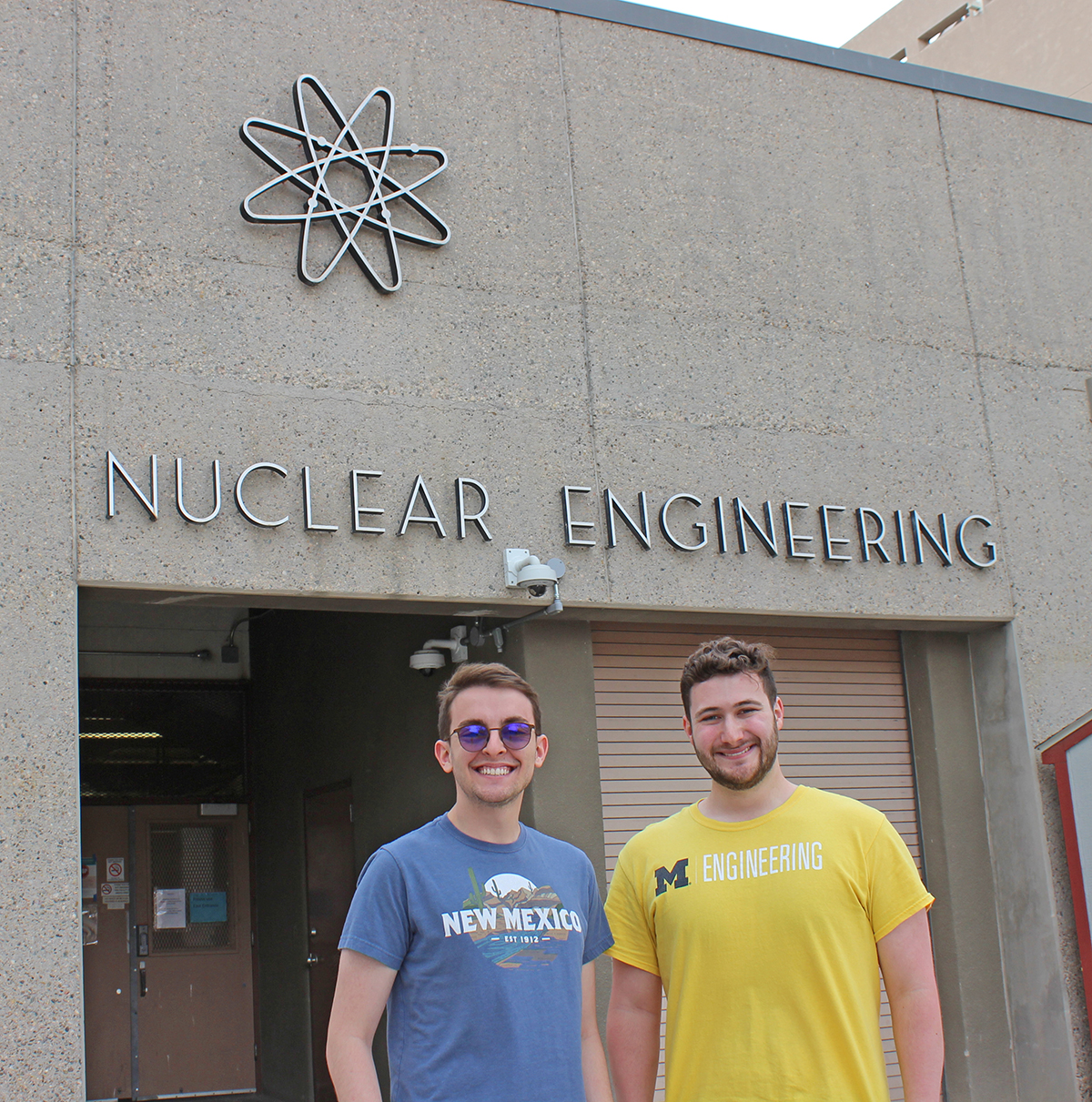 Justin Hamil and Ethan Krammer stand in front of the Nuclear Engineering Building with shirts designating their graduate school destinations.
Justin Hamil and Ethan Krammer, both seniors in the Department of Nuclear Engineering, are each receiving $169,000 over three years to help pay for graduate studies and research. The awards are part of $6.3 million in scholarships and fellowships awarded by the Department of Energy (DOE) this spring to students pursuing nuclear energy-related degrees across the United States.
Krammer will pursue his Ph.D. at UNM, working with Assistant Professor Christopher Perfetti on the computational side of nuclear criticality safety and machine learning algorithms. Hamil will be pursuing a Ph.D. at the University of Michigan, where he plans to continue research in creating materials benchmarks for next-generation reactor technology, working with professors Kevin Field and Stephen Raiman.
Krammer, a native of North Las Vegas, Nev., is the first recipient since 2014 to receive a UNLP graduate fellowship for study at UNM.
During his years already at UNM, the double in major in applied mathematics (and double minor in computer science and interdisciplinary liberal arts) said the opportunities in the Department of Nuclear Engineering in both research and leadership have allowed him to grow as both a person and an engineer.
"There is so much untapped potential at UNM and so many ways to engage," he said. "We are situated at the heart of the nuclear industry. I'm proud to be a part of that."
In particular, Krammer has been heavily involved in the award-winning student chapter at the American Nuclear Society (serving as president) and is excited to continue that involvement in graduate school. His goal is to bring the ANS national student conference to UNM in 2025.
Both Hamil and Krammer said that the fact that UNM nuclear engineering students receive reactor operation experience as part of their educations, including handling fuel disks, sets UNM students apart, giving them a big advantage.
Fellowships also include a one-time, $7,000 allowance that funds an internship at a DOE national laboratory or other approved research facility. Krammer said that he is most excited to gain DOE lab experience as part of the fellowship, which is a career option he is considering after graduate school.
"It's a really phenomenal program," he said. "I'm open to what the future holds, either at a national lab or in academia."
Hamil, who has Midwestern roots (born in Iowa and grew up in Minnesota), chose UNM because after checking out other universities, he "felt like a number," but UNM "felt like home immediately."
"I received a personal tour of the department, and the department size was perfect," he said. "I feel like I have at least a 10% advantage over students at larger institutions because of the personal attention and opportunities I was afforded at UNM."
He also took advantage of UNM's wide variety of areas of study outside of engineering, opting to double major in Russian. Unfortunately, the pandemic in 2020 dashed his plans for a study-abroad trip there, but he said there are a lot of avenues he can pursue to utilize his nuclear engineering-Russian experience in the future.

Justin Hamil (shown) and Krammer both said that gaining reactor operation experience as part of their educations, including handling fuel disks, sets UNM students apart from other nuclear engineering programs in the country.
Even though he will be returning to the Midwest (and getting reacquainted with the snow) for his graduate studies, he said New Mexico with always be a part of him.
"I'm really excited to study at Michigan, but I'll always be a Lobo," Hamil said.
Krammer said in his spare time, he enjoys researching electoral politics in the U.S. "at all levels." Hamil enjoys traveling, hockey and piano.
Both Hamil and Krammer said that the faculty, the staff and other students in UNM's nuclear engineering department are second to none and played a big role in their success, whether that was through the classroom, lab or after-hours study sessions.
Hamil calls the department "tiny but mighty" and said that in particular, he thanks Eric Lang, who joined the nuclear engineering faculty at UNM just last fall.
"It's hard to explain the positive impact he has had on the department," he said. "He helped me get through the [UNLP and graduate school] application process, and I would not be where I am without his support."
These awards are provided through the Department of Energy's University Nuclear Leadership Program, which invests in the next generation of leaders who are researching innovative nuclear energy solutions to help tackle the climate crisis and work toward President Biden's goal of 100% clean electricity by 2035 and a net-zero economy by 2050.