Nuclear engineering alumnus named to National Academies committee
July 6, 2020 - Kim Delker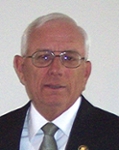 Joseph A. Sholtis Jr., who received his master's degree in nuclear engineering from The University of New Mexico, has been appointed to a National Academies of Science, Engineering and Medicine committee to study space nuclear propulsion technologies.
Sholtis, who received his UNM degree in 1977, is the owner and principal of Sholtis Engineering & Safety Consulting. He spent 23 years in the United States Air Force and retired as a lieutenant colonel. Sholtis is an internationally-recognized expert in the areas of space nuclear systems and has served on 14 NASA missions. In 2017, he was selected as a Distinguished Alumni of the School of Engineering.
His appointment began in May 2020 and will run through March 2021.