UNM's nuclear engineering department makes a strong presence at national meeting
UNM's nuclear engineering department makes a strong presence at national meeting
December 4, 2019 - By Kim Delker
The University of New Mexico's Department of Nuclear Engineering is a small department, but made a mighty impact at the recent 2019 American Nuclear Society (ANS) Winter Meeting and Nuclear Technology Expo in Washington, D.C.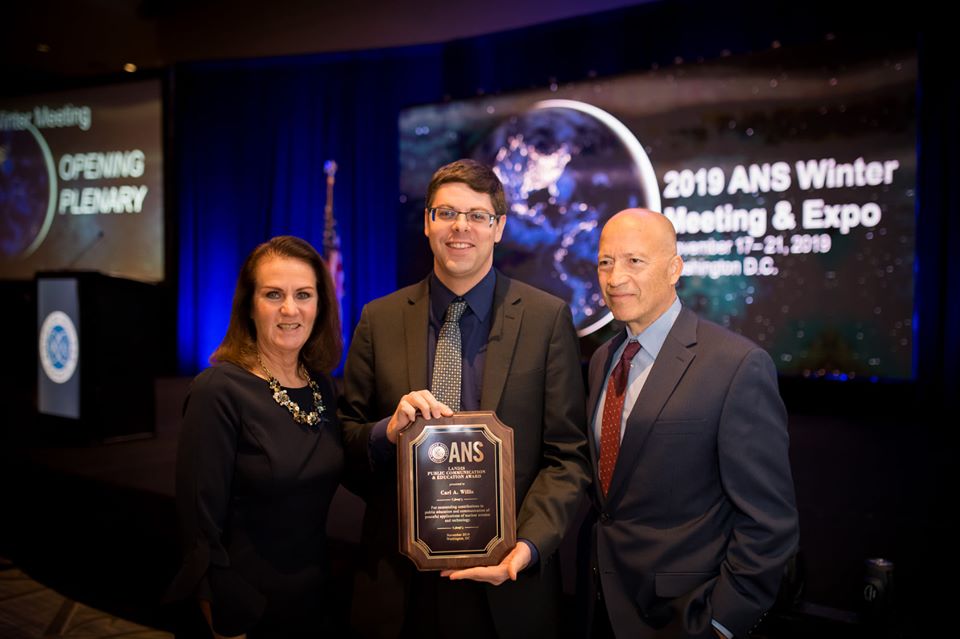 Lecturer Carl Willis, center, won the Landis Public Communication and Education Award
Both students and faculty were active participants. Among those to give talks and participate or lead panel sessions were faculty members Chris Perfetti, Osman Anderoglu, Minghui Chen, Adam Hecht, Forrest Brown and Robert Busch, as well as and graduate students Corey Skinner, Mingfu He, Khaled Talaat and Phoenix Baldez, as well as many other students.
Carl Willis, an instructor in the department, won the Landis Public Communication and Education Award, which recognizes an individual for "outstanding efforts, dedication and accomplishment in furthering public education and understanding of the peaceful applications of nuclear technology."
Several students also won awards:
Oskar Searfus, a senior in the department, was awarded first place in the undergraduate poster contest
Ira Strong, a senior in the department, was responsible for organizing the Diversity Networking Social, which was well-attended
The UNM nuclear engineering team also proved their knowledge by winning the nuclear trivia contest at the Young Professionals Congress social event.
Earlier this year, UNM's student section of the American Nuclear Society received the Samuel Glasstone Award, which given to the ANS student section which "accomplishes the most notable achievement in public service and the advancement of nuclear engineering during the year."
UNM's nuclear engineering program is ranked No. 13 in the nation in the 2020 U.S. News and World Report graduate school rankings for engineering.