Recognition for outstanding technical achievement
February 27, 2015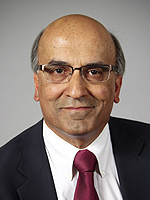 Anil K. Prinja, professor and chair of the Department of Nuclear Engineering at the University of New Mexico, has been selected to receive the American Nuclear Society's Gerald C. Pomraning Award for 2015.
The Gerald C. Pomraning Memorial Award recognizes individuals who have made outstanding technical achievements in mathematics and computation.
The award will be presented at the banquet of the Joint International Conference on Mathematics and Computation, Supercomputing in Nuclear Applications and the Monte Carlo Method. The conference will be held April 19-23 in Nashville, Tenn.